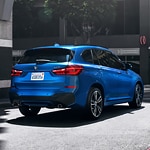 The BMW X1 is in a unique class of vehicles. You will find that it has become one of the more popular subcompact SAVs being driven today because of its attention to details. From the exterior colors to the comfortable interior, there is a lot to take in with this entry from BMW.
The included Infotainment System is something that you have to see in order to appreciate. You will be able to control all of the technological features of the car right from the interactive touchscreen. Seamlessly answer the phone, check the weather, and navigate to your destination with ease.
The head-up display is worth seeing as well. This is a way for the driver to easily visualize important vehicle information without having to look for it on the instrument panel. You can see everything you need right on the windshield. You are welcome to test drive the BMW X1 when you visit BMW Portland.