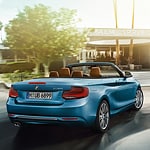 The newest BMW 2 series is a line of coupes and convertibles that are among the most popular in their class of vehicles. It comes in three coupe styles and one convertible trim. All of the series' vehicles are designed to be head turners on the road while offering you safety and performance that you expect from one of the best luxury vehicles for sale today.
While they are built for speed, the BMW 2 series cars also come with safety features that are designed to prevent accidents. You get dynamic stability control or DSC that applies the brakes and applies traction control if you are driving in inclement weather conditions. It also has a five-link rear suspension for ease of handling and power. You can drive in challenging road conditions, knowing that your car will absorb the impact from the road.
Discover the new BMW 2 series today. Test drive its new coupes or convertible.