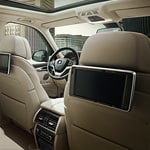 Why choose the 2020 BMW X5 as your next automobile? Well, this popular SAV comes in a midsize, and it yields an abundance of premium features. Some of the available trims are the xDrive 40i, sDrive 40i and xDrive 50i. Consumers can also select this SAV in a number of exterior paints.
The 2020 BMW X5 will offer turbocharged and twin-turbocharged powertrains. Drivers will get an instant boost of power from these forced-induction engines. V6 and V8 engine sizes are available, and it's estimated that the 523-horsepower engine will blast from zero to 60 mph in less than four seconds. Smartphone integration is available via Android Auto, and iPhone users will have access to Apple CarPlay technology. The 2020 BMW X5 goes further by offering power-adjustable fronts seats, heated front seats, rain-sensing wipers and interior lighting.
Stop wasting time, and head over to our location for a more in-depth discussion and for a test drive.