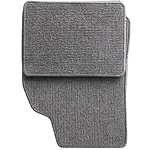 When you want to update the look of your vehicle while adding extra protection to one of its most dirt-prone areas, floor mats are the way to go. The team at BMW Portland offers the following information to help you select new floor mats for your car, van or truck.
Durable rubber mats that are easy to clean are an excellent choice if you walk over bare soil to get in and out of your vehicle or if you live in an area with frequent rain. These types of mats get lower points for style than carpet mats, but modern ones can be less utilitarian-looking than previous versions.
Carpet mats should be selected to match or contrast with your vehicle's carpeting. Carpet mats are somewhat easier to clean than the existing flooring but shouldn't be relied to provide complete protection from spills and dirt.